ALBO INDUSTRIAL CORP. & MICROTEX LIMITED is a professional Taiwan manufacturer, supplier, converter, and exporter with over 40 years of experience and have earned a well-known reputation in both manufacturing and exporting textile to our customer's markets. We manufacture and export various textile goods including one of our products the 
Water Resistant Fabric
. Moreover, this particular fabric product has been heavily used in medical applications in our customers markets.
Over the years, we strive to deliver our products' innovation, competitive pricing, and quality-driven customer satisfaction. However, we will keep working on the goal of being a quality manufacturer and becoming the leader of the first line in the market. 
If you are interested in our 
Water Resistant Fabric
 and need further information or problems, please don't hesitate to 
contact us
 soon. We are very confident that we can manufacture and supply the best fabric products to you, and we're seeking long-term partnerships and purchases. 
Water Resistant Fabric
Model - 00017
Albo Industrial Corp's corporate culture is always to keep "learning, adjusting, upgrading and innovating". With our elite team of sales experts and help from our supportive suppliers, we provide our customers with outstanding products and a great experience of before and after-sales services. Hopefully, soon we can also build a business partnership and friendship with you. However, if you are interested in our product the TACTEL W/R in our medical fabric category, in need of requesting a yardage or meter sample of this item, or looking for an item similar to this item, please do not hesitate to contact us now.
Composition:100% Polyester
Specification:Width:58/59"
Weight:ABT.185G/Y
Yarn Count:75D/36F x 250D/216F
Density:106 x 74
Supply type:Make to order
Color:According to customer needs
Dyeing:Plain dyed
Feature:Water repellency
Technics:Weaving
Use:Medical Fabrics
Minimum Per Order Abt. 10,000M
Minimum Per Color:Abt. 1,000M
Delivery: Abt. 60 Days
Packing:Customized package
Terms:CIF/CNF/FOB
Payment:T/T, L/C
Origin:Taiwan
ALBO INDUSTRIAL CORP. & MICROTEX LIMITED
00017
none
999999999
http://schema.org/InStock
USD
2020-12-31
https://www.apparel-fabric.com/water-resistant-fabric.html
ALBO INDUSTRIAL CORP. & MICROTEX LIMITED
90
out of
100
based on
100
user ratings
Enquiry Now
Products List
View Detail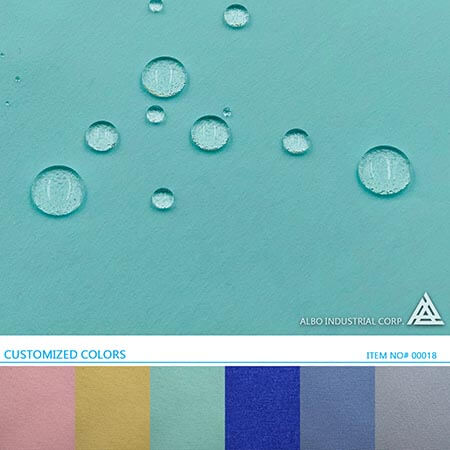 ALBO INDUSTRIAL CORP. & MICROTEX LIMITED
To find and shop the Water Resistant Fabric, you need to know about the highest quality of Water Resistant Fabric manufacturer, supplier, wholesaler, distributor from a factory in Taiwan
00018
none
999999999
http://schema.org/InStock
USD
2020-12-31
https://www.apparel-fabric.com/water-resistant-cloth.html
ALBO INDUSTRIAL CORP. & MICROTEX LIMITED
90
out of
100
based on
100
user ratings